Part Costing and Assemblies
Parts and Assemblies
Quick and accurate cost generation is at the centre of RanFab.
RanFab will generate fast quotes with ease. Just fill in a couple of options in our proposed built wizards, and the costing is complete.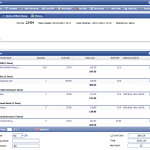 Defining the costs for manufacturing parts or assemblies is achieved intuitively and elegantly by utilising a flexible interface.
It is as simple as adding items to a list using the same thinking pattern you would when building the part in real life.
The approach is straightforward, and the learning curve is fast. Training staff to estimate is no longer a difficult task. RanFab employs wizard-like navigation prompting users to enter necessary data before they move on the next step.
RanFab includes specialised profile cutting wizards designed to simplify the process of costing the cutting and material elements dramatically.
Costing of profile-cutting jobs can be done using manual time calculation and rectangle nesting or fast and accurate automatic nesting using our built-in nesting cutting time and material requirements.
Once complete, you can be assured that the result is reliable and predictable.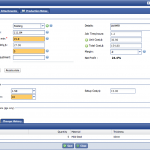 With RanFab, cutting is just the beginning. Any form of fabrication can be used and defined.
The "Add Fabrication" button will pop up the fabrication wizard from where the user picks the type of process to be used. Select the quantity, the unit time and your setup cost and click adjust profit.
That's it the cost is added to the list and the overall total.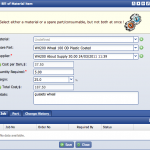 Bill of materials is the standard method of adding consumables and other bought-in items to construct a cost list.
The take-off list can be complex and allow for both complete components and parts bought elsewhere or raw material costs.
The logic flows well, and anyone can easily understand RanFab's pricing structure.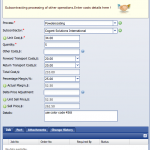 Subcontracting is handled out of the box and linked in with the subcontractor module.
Add the cost from your subcontractor, including the cost to deliver the parts to and from your workshop and select the desired profit margin.
You can also attach any electronic files you can later share with your subcontractor.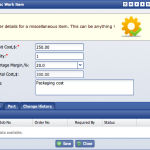 Finally, Miscellaneous Costs enable users to add any arbitrary cost element quickly.
Use this option for any other un-usual items that otherwise cannot fit the definition of any of the previous options.
This cost is, however transferred to the job cards later in production with full description.